BMW Films "The Hire" Season 1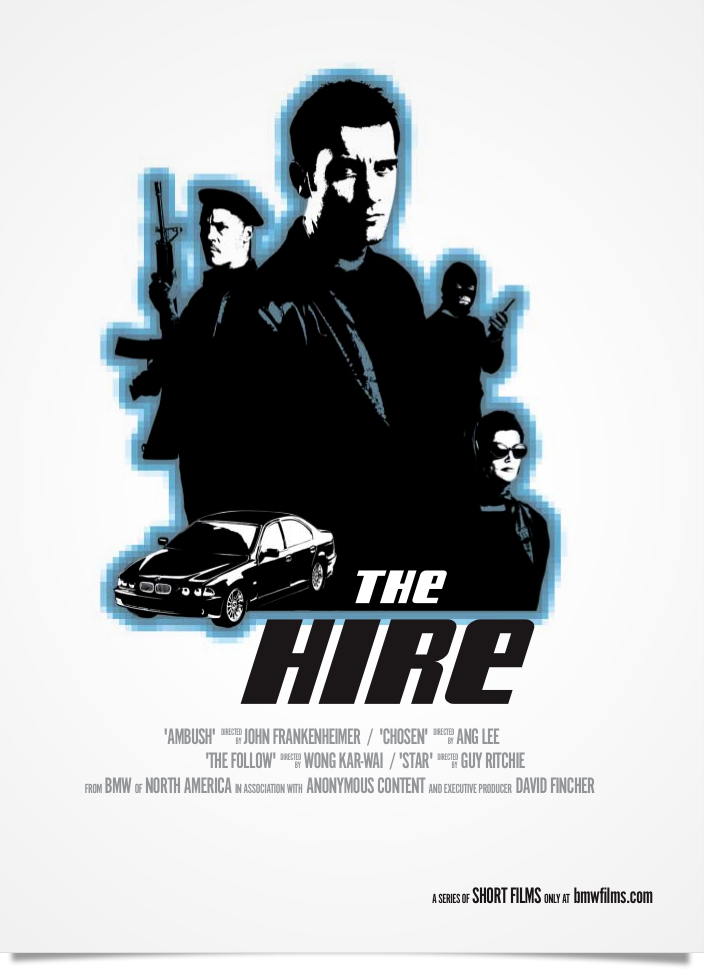 BMW FILMS "The Hire" Branded Content
Much has been said about this pioneering online brand campaign created by Fallon for BMW of North America at a time before YouTube existed. It achieved many industry firsts and was highly-revered by the advertising community winning virtually every industry award possible, including the first of a new Titanium category created at Cannes because it didn't fit the existing norms. The One Club declared it to be one of the Best of the Decade from a period of rapid and massive development of the age of the internet. It remains a benchmark for brands hoping to engage their audience in fresh ways that result in exponential growth.
The first-of-it's-kind online films series spanned 2 seasons featuring 8 films covering a range of short film expressions from an enviable list of award-winning film directors and actors. The web site and film player delivered the best experience possible when many where still dialing into the internet on a 28.8 modem. With films being released over a period of weeks and ultimately years, the campaign captured the attention of millions of viewers, media, followers, and fans of the brand for creating something so different, so wonderful, and so very "on-brand."
Dealerships enjoyed a powerful increase in buyers seeking the Ultimate Driving Machines featured in the films. Driving performance was redefined in new ways beyond the vehicles' ability to quickly get you from point A to point B. The intense driving footage demonstrated a nimbleness and reliability to escape danger and survive damage without failing. 
It took a sizable team of talented, driven people from inside and outside the agency and client ranks to execute this vision. It took the tenacity of a great client and resilient of the agency leadership to shepherd this never-been-done-before campaign into reality. In the long run, it was one of the smartest risks taken.