THE BLACKLINE

Inspired by the City of Broad Shoulders, the Black Line bicycle has a strong spirit and is ready for just about anything. It takes its name from Chicago's iconic elevated train lines that run throughout the city, non-stop. While the 'L' will get you from station to station, the Black Line is the ride that gives you the freedom to get everywhere in between.
VERSATILE CARGO SYSTEM

The BLACKLINE features a ready-for-anything cargo system that can be mulit-configured to help get you to lunch, a museum, the ballpark, a street festival, or anywhere the wind blows in the Windy City. The front rack discreetly stores a U-lock and the rear rack features removable waterproof panniers with stow-away shoulder straps so you can tote your gear from place to place.
SMART HANDLEBAR SYSTEM

Tough yet refined, this bike has just the right amount of street savvy. A custom Helios smart handlebar with integrated LED headlight and side blinkers utilize GPS enabled turn-by-turn navigation to help you safely navigate the urban grid.
The Helios app helps you get where you need to go safely and in style. With your smart device linked to the Helios handlebars via Bluetooth, turn by turn navigation is as easy as inputting your destination. LED indicators on the ends of the bars blink left or right to indicate an upcoming turn, and signal traffic if your intent at the same time. The brightness of the headlamp can be controlled with the tap of a finger, and the ambient riding lights can be configured to any color matches you swag. Want to know how fast you are riding?  Set the handlebars to speedometer mode and the LED indicators change color as you ride to give you visual feedback on you speed. And when you lock your bike, the Helios app is there for you. Just send an SMS text to your bike, and you will receive a Google map pin for its exact location so that you are sure your ride is where you left it.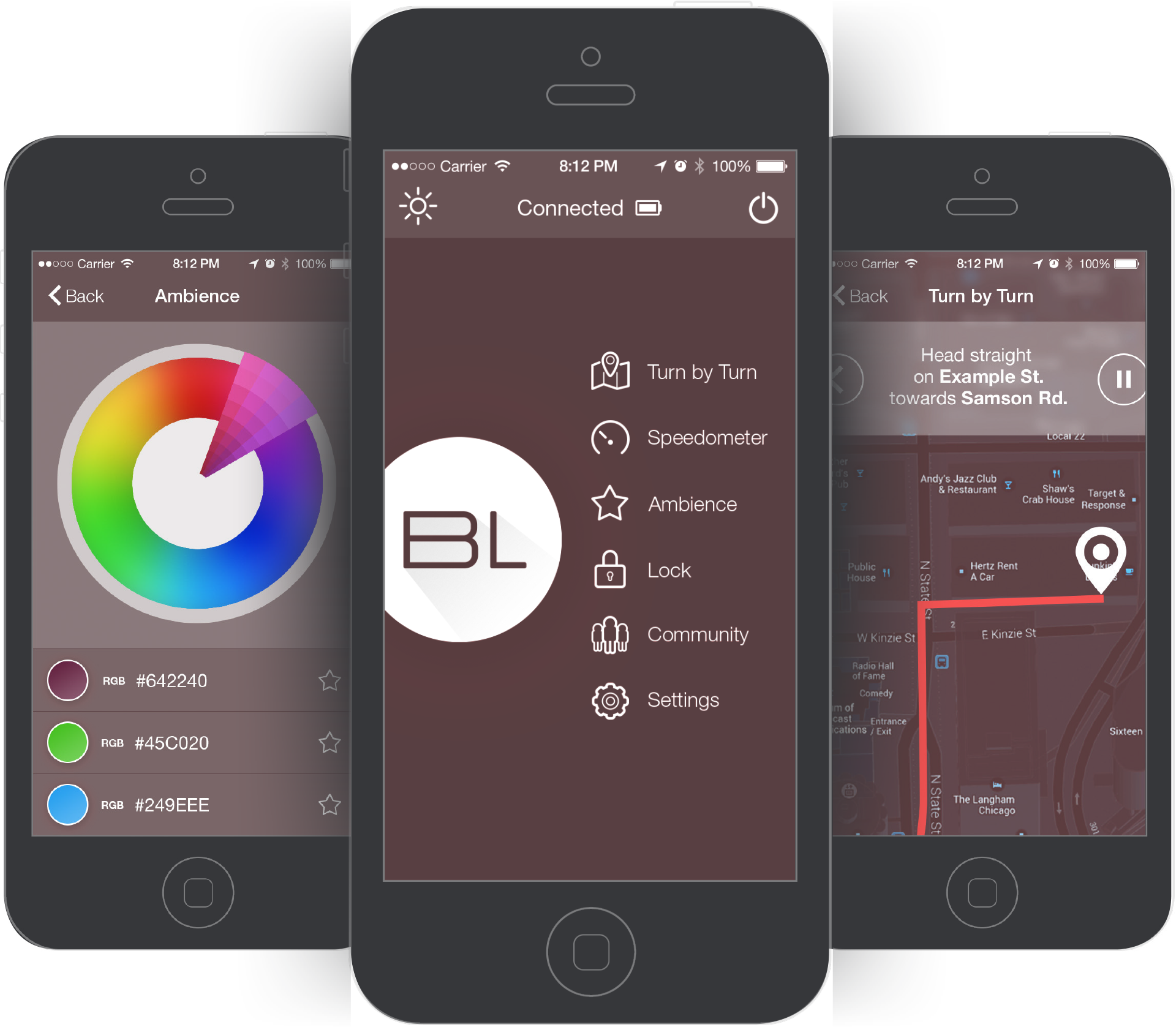 MAINTENANCE FREE DRIVETRAIN

The virtually maintenance-free drive train utilizes a sealed 3-speed SRAM hub, originally designed to endure the extreme conditions of rural Africa. It's driven by a nearly indestructible belt drive able to withstand everything from the daily commute to the harshest winters.
SINGLE-TUBE FRAME

The BLACKLINE features a strikingly bold yet simplified frame with a singular, angled 2" down tube, which makes dismounting your ride a little easier in stop-and-go traffic. Not to mention, it  might turn a few heads. 
RUGGED WHEELSET

Chicago streets can be tricky terrain to navigate. We gave the BLACKLINE balloon tires that smooth out your ride, won't slow you down, and lessen the worry of roadside repairs during pothole season.